The growing impact of false fire alarm activations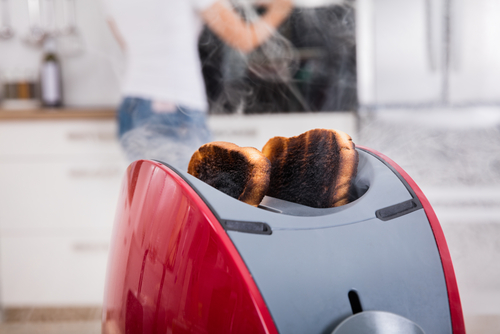 The increased usage of smoke detectors, together with advances in fire detection and alarm system technology, has undoubtedly contributed to a significant decrease in the number of fire deaths and injuries. However a resultant side effect has been an increase in the number of false and unwanted fire alarm activations.
According to government fire statistics, 40% (214,000) of the 529,000 incidents the fire and rescue services in England attended between April 2015 and March 2016 were false alarms.
What causes false alarms?
False alarms can occur for a wide range of reasons. Fire services generally classify false alarms into three broad categories.
Malicious – Where the alarm has been falsely triggered in order to cause disruption.
Good Intent – When an individual wrongly suspects that a fire may have broken out.
Technical - This is when apparatus malfunctions or triggers the alarm falsely. This can occur for a number of reasons including:
External elements such as power surges or smoke from other sources.
Contaminants such as dust, aerosols and steam.
Animal/human activity such as cable gnawing and urinating on electrical components.
Of the 214,000 unwanted fire alarms in 2015/2016, over 142,000 were due to technical/apparatus, with faulty equipment being the largest cause of false alarms.
The impact of false alarms
False alarm call outs create a considerable drain on the fire and rescue service resources and cause substantial disruption with loss of productivity to businesses. Most importantly, attending false alarms may divert fire services away from real emergencies, increasing response times and putting others at risk of harm.
Costs to you

Disruption to production from evacuations
Potential for unsatisfied customers
Potential fire service charges for attending
Reputational damage
Lowers occupants confidence and responsiveness to actual alarms
Costs to fire services
Diverting essential services from genuine incidents
Increasing risks to fire crews and the public while responding on blue lights
Potential to unnecessarily disrupt firefighter training and community fire safety activities
Cost impacts on already tight budgets
Strategies to reduce false alarms
With false alarms creating a huge drain on local fire and rescue services many are trialling and adopting new methods in an attempt to reduce the number of false alarms. These include:
Call challenging/call back – Obtaining confirmation relating to a fire before responding
Promotion of third party accredited designers and engineers – Helping to ensure fire alarm systems are fit for purpose
Business support units – Helping businesses understand their responsibilities
Enforcement through the FSO 2005 – Using legislation to enforce change within an offending organisation
Charging for attendance to repeated false alarms
Each individual fire service will often have a different approach to false alarms. You should always contact your local service and find out their policies regarding false alarms.
How Metro Safety can help
Metro Safety have an extensive nationwide network of fire safety specialists. We can deliver the initial risk assessment, through to the ongoing testing and maintenance of essential fire safety equipment. We also provide technical consultancy and are able to advise you on fire alarm system design and installation.
If you would like to find out more, or discuss how Metro Safety can help you reduce the chances of false fire alarm activations, please get in touch. We are always happy to have an informal discussion.