Building safety consultation: Have your say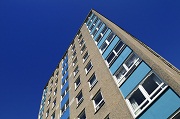 The Government has published a consultation for a fundamental reform of building safety requirements.
The Grenfell Tower fire tragedy highlighted an urgent need to make major changes and improvements to the building safety system.
The Independent Review of Building Regulation and Fire Safety led by Dame Judith Hackitt, found that there are issues in the way some high-rise residential buildings are built, managed and looked after. Her review also found that sometimes residents are not confident that their buildings are safe and have been unable to get their concerns taken seriously.
To address these issues, the Government have developed a set of policy proposals to improve the fire and structural safety of high-rise residential buildings. These proposals will help shape changes in the law that will help to make sure high-rise residential buildings are safe to live in and residents are able to have their voices heard.
The consultation sets out the plan to overhaul the system for high rise residential buildings through:
Clearer responsibilities for those building or managing these buildings
A stronger voice in the system and better information for residents
Greater oversight by regulators; and
Tougher enforcement when things go wrong
Before these proposals are finalised, the Government would like to have views from as many people as possible to help deliver something that will have a real and lasting impact.
The consultation runs until 11.45pm on 31st July 2019
Download - Building a safer future: quick read guide
Download – BSP Consultation (full document)