Welcome back to our 'Six in Six' team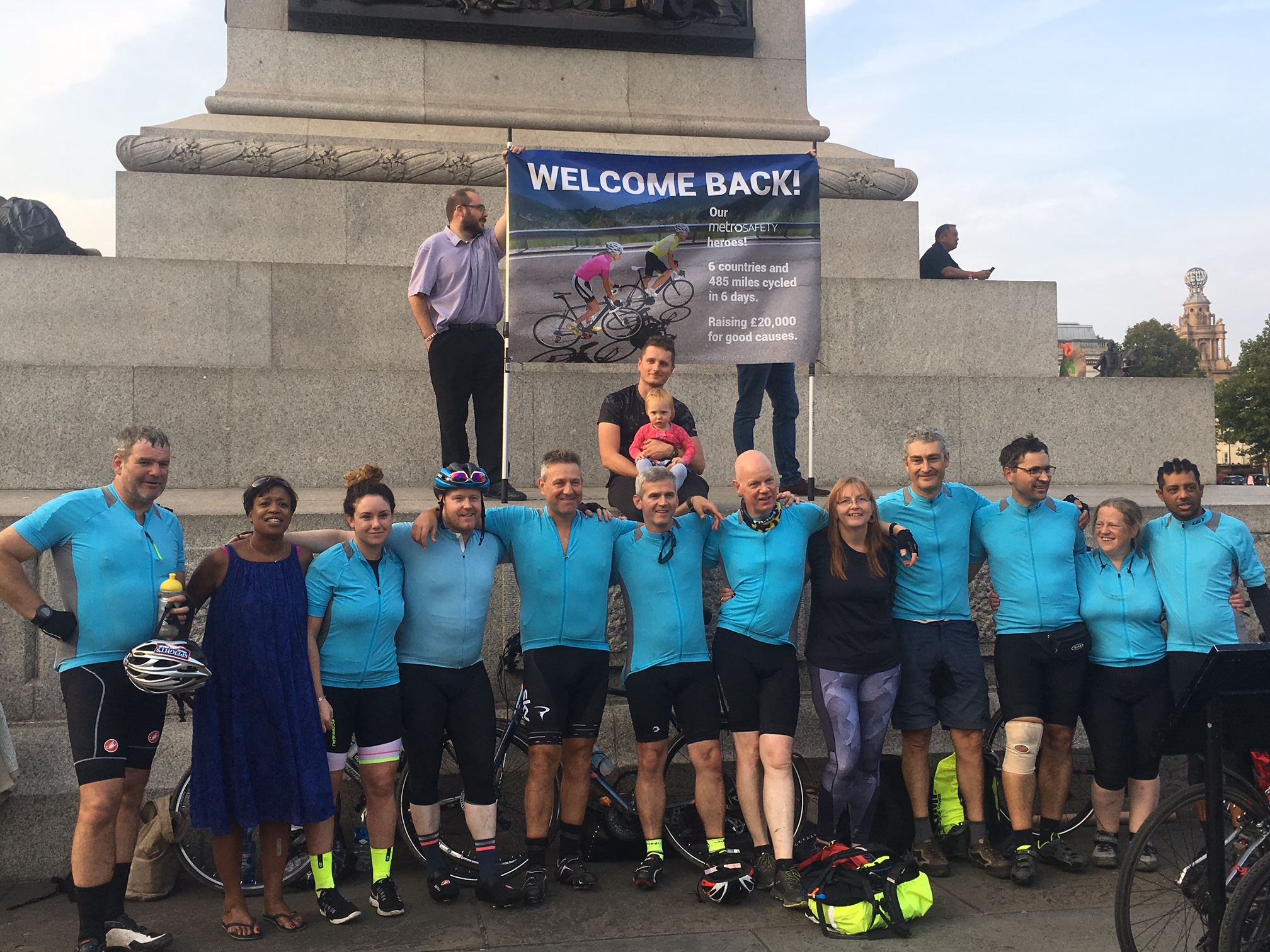 Metro Safety have once again demonstrated their commitment to charity. As part of the campaign to raise £20,000 for 4 Good Causes during Metro Safety's 25th anniversary year, a team of 10 cyclists took on the huge challenge of cycling through 6 countries in 6 days, covering a total distance of 509 miles.
The Metro Safety '6 in 6' team left Saarbrücken, Germany on 21st September and cycled through France, Luxembourg, Belgium and Holland before finishing the ride in Trafalgar Square, London on 26th September. They returned safe but sore! It had been a tough but memorable challenge for those taking part. The team was made up of a mix of competent and beginner cyclists and a combined age which probably exceeded the mileage! In total they cycled 509 miles which meant over 45 hours in the saddle and climbing over 16,000ft. On a positive note they also burnt over 18,000 calories over the 6 day period - but didn't go hungry thanks to the sterling efforts of the support crew.
In keeping with Metro Safety's values, the focus was on raising much needed funds for charity. The riders expensed the challenge themselves with all sponsorship raised going to the company's nominated charities which include:
Children's Burns Trust – A national charity dedicated to providing rehabilitation support for burned and scald injured children and their families, as well as prevention and awareness campaigns.
Mesothelioma UK – A national specialist resource centre, specifically for the asbestos-related cancer, mesothelioma. The charity is dedicated to providing specialist mesothelioma information, support and education, and to improving care and treatment for all UK mesothelioma patients and their carers.
Caring Matters Now – The only dedicated UK charity to provide information and support for those affected by Congenital Melanocytic Naevi.
Macmillan Cancer Support – Providing specialist health care, information and financial support to people affected by cancer. As well as the social, emotional and practical impact cancer can have and campaigns for better cancer care.
There's still time to donate.
We hope you will give generously to support these worthy causes at our Virgin Money Giving page:
http://uk.virginmoneygiving.com/team/6-in-6
You can also relive our journey on Facebook: http://www.facebook.com/Metro6in6Ride
We really appreciate all your support and thank you for any donations.
Our Metro Safety Six in Six Heroes and Heroines
Ian 'Seal' Simcott
Tim Kitching
Andrew McCarthy
Candida March
Cristian Carabus
Victoria Scaramuzza
Jerome Thomas
John Lock
Peter Taylor
Selvan Govender