Metro Building Maintenance new build penthouse adds value to Clerkenwell residential development.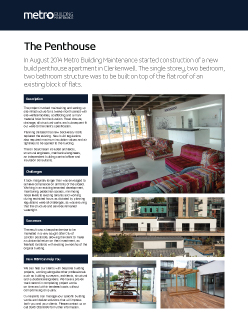 Metro Building Maintenance has successfully completed a number of building projects which have helped clients in central London add value to their property assets.
Our most recent project was the construction of a new build two bedroom penthouse apartment which was built on top of the flat roof of an existing block of flats in Clerkenwell.
Working in an existing tenanted building, maintaining pedestrian access, minimising noise levels and working within restricted hours were all challenges, as was ensuring the existing structure and services remained watertight. The result however was a bespoke demise to be marketed in a very sought after City of London postcode and which added substantial value to the property. More details and pictures of the finished project are available by clicking here.
The project was just the latest in a string of successful projects completed by Metro Building Maintenance including residential and penthouse conversions and refurbishment projects for a school, commercial offices and industrial estates.
If you would like to view the most recent property that we have converted please don't hesitate to ask. Alternatively take a look at our case studies to view details of recent conversions an other completed projects. To find out how Metro Building maintenance can add value to, or maintain your property assets whether they be commercial, industrial or mixed use, please call 0845 058 9999 or submit an an enquiry.