London Fire Brigade issue reminder of the importance of a working smoke alarm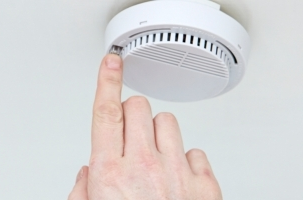 London Fire Brigade (LFB) have recently released figures which show that a working smoke alarm was not fitted at 5 out of the 7 properties within London where fatal fires have occurred since the beginning of 2017.
Further figures reveal that a working smoke alarm was not fitted at over half of the properties where the LFB attended dwelling fires over the course of the last year .Not having a working smoke alarm can often lead to the fire being undiscovered for a much longer time, allowing it to grow and reducing the chances of a safe escape.
Talking about the ten fire deaths in London since the beginning of 2017, London Fire Commissioner Dany Cotton said: "While the coroner has yet to determine cause of death we believe that many of these deaths could have been avoided if the victims had working smoke alarms.
Often the most deadly fires are small fires that quietly smoulder and smoke while people are asleep or in a different room. Without the early warning of a smoke alarm, people can be overcome with smoke before the fire is discovered.
Please fit at least one smoke alarm on every floor of your property and regularly check them. The quicker firefighters are alerted, the quicker we can help save lives and prevent fires from spreading. Get out, stay out and dial 999."
8 out of the 10 deaths this year were people over the age of 65, a number of which were in receipt of some form of care. LFB are asking care staff, neighbours and family members to be vigilant for early signs that a person could be at risk and to get in touch with their local fire and rescue service.
Source: LFB