Check your emergency escape route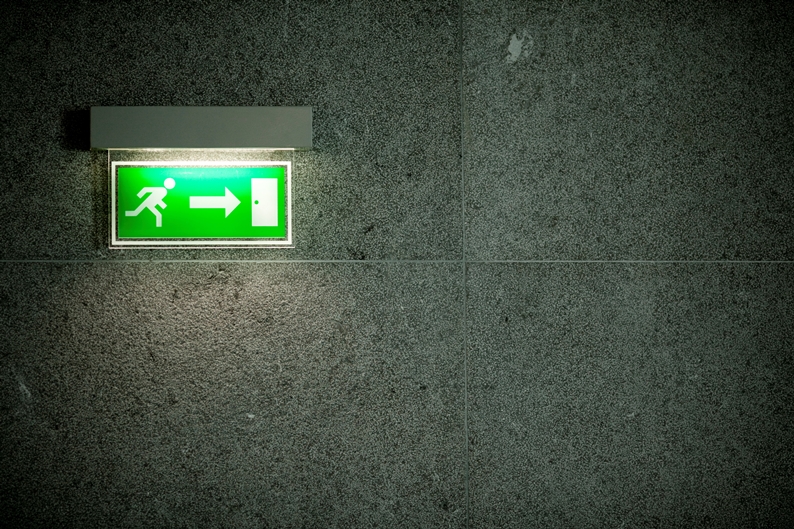 Although you hope that an emergency situation never occurs where you are required to use your emergency routes and exits, you must ensure they are maintained and kept clear at all times. This is not only a requirement under legislation but will provide the building's occupants with a much greater chance of escaping in the event of an emergency.
The Fire Safety Order 2005 requires the following:
• Emergency routes and exits must lead as directly as possible to a place of safety allowing persons to evacuate the premises as quickly and safely as possible in the event of an emergency
• The number, distribution and dimensions of emergency routes and exits must be adequate in relation to the size of the property, its use , equipment and maximum levels of occupancy
• Emergency doors must open in the direction of escape
• Sliding and revolving doors must not be used for exits specifically intended as emergency exits
• Emergency doors must not be locked or fastened, they must be able to open easily and immediately by anyone who needs to use them
• Emergency exits must be indicated by signs
• Emergency routes and exits requiring illumination must be provided with emergency lighting of adequate intensity even in the case of failure of mains lighting
Things to look out for
There are a few simple checks which every building occupant can carry out to help keep emergency routes clear and safe. Some of the main things to look out for are:
Build-up of clutter – As emergency doors and the routes which lead to them are infrequently used, it can be tempting to use the space for storage. This must be avoided as this will hinder the quick and safe exit of the building occupants in an emergency.
Fire doors jammed open – The routes to the emergency exit should be adequately protected from fire. If fire doors are jammed open this will allow fire to quickly spread and may block the escape route. Fire doors should remain closed at all times.
Damaged fixtures and fittings– Fixtures and fittings within buildings suffer from general wear and tear over time. Door handles and latches can often become damaged leading them to malfunction. It is important to regularly inspect all the fixtures and fittings of your emergency doors to ensure they function correctly.
Emergency lighting and signage- In the event of an emergency the lighting and signage must be able to guide building occupants to the exit, even in the event of a complete power failure. Emergency lights must be tested regularly to ensure functionality and you should ensure all directional signage is in place and in good condition.
Ask an expert
Metro Safety can provide fire risk assessments which will highlight any potential problems with your emergency routes, and monthly emergency light testing to ensure you remain safe and compliant. We are also able to develop a tailored emergency evacuation plan for your premises.
If you have any questions regarding your emergency escape routes/plans or would like to find out more about any areas of fire safety compliance, contact a member of our team on 0845 058 9999. They will be happy to answer any questions you may have.