Study conducted by BRE Global shows fire sprinklers are a sound investment for larger warehouses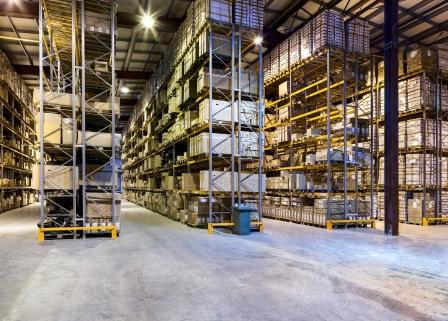 One in five warehouses in England, approximately 621 premises, will have a fire requiring the attendance of fire fighters each year. The annual cost to the UK economy of fires in English warehouses without fire sprinklers is £232 million.
The three year study was conducted independently by BRE Global and commissioned by the Business Sprinkler Alliance (BSA). Findings highlight the importance of sprinklers in these high risk properties and should be considered by those responsible for large warehouses.
The main finding showed that sprinklers are, on average, a cost-effective investment for warehouses with a floor area above 2,000m2, with the greatest benefits being a reduction in fire losses.
The study looked the whole-life cost benefit analysis for fire sprinkler installation in three ranges of warehouse sizes.
Key findings from the BRE study include:
The whole-life costs for warehouse buildings larger than 2,000m2 (around half a football pitch in size) with fire sprinklers are on average 3.7 times lower than ones without them.
Fire sprinklers were, on average, not cost-effective in warehouses with an area below 2,000m2.
Environmental benefits from sprinklers include a reduction in CO2 emissions from fire, reduced size of fire and reduced quantities of water used to fight fire.
Only 20% of warehouses between 2,000 and 10,000m2 are fitted with fire sprinklers. For warehouses above 10,000m2, the estimated fraction with fire sprinklers is 67%.
If all warehouses above 2,000m2 were fitted with sprinklers, the annual saving to businesses in England could be up to £210m.
The research will be launched in the House of Commons alongside a new study on the financial and economic impact of warehouse fires from the Centre for Economics and Business Research.
Ian Simcott, Director, Metro Safety had the following comment on the study;
"This confirms our views on the risk profiles of large warehouses. Whilst the individual circumstances of a site obviously drive the frequency of Fire Risk Assessment reviews, the likelihood of fires occurring, and the potential severity of the outcome, present a strong argument for all larger warehouses to be treated as high risk. The frequency of the review of Fire Risk Assessments must be set accordingly"
If you are unsure of the risks that your properties pose, the first step is to conduct a Fire Risk Assessment.
If you would like to discuss your own situation in more detail or would like any help from one of our Fire Safety Advisors please call 0207 960 3949 or submit an enquiry online.
Learn more about fire safety
Join us at our free Fire Safety Compliance and Asbestos Management CPD Seminar 6th March, London. Book your place now.

Fire safety factsheet download
For more information on your fire safety requirements download our factsheet on the Regulatory Reform (Fire Safety) Order 2005.
Join our LinkedIn CPD group to be kept up to date on the latest industry news, legislation changes and updates on our CPD seminar programme.