SMART IT is not just another IT system: IT needs to be backed up with intelligent thinking, adequate instruction and training and effective information transfer. Perhaps hardest of all is getting the right information to the right people quickly enough when they need it. The most vulnerable people and the most likely people to put themselves and others directly at risk are not the dutyholders and responsible persons but the occupants and numerous contractors who visit and work in your properties. The better informed these people are, and trained where appropriate, the lower your risk of a major incident will be.
The good news is that Metro Safety's SMART IT can help you improve the join up and management of your compliance, giving you and your key stakeholders more confidence and better line of sight in your areas of greatest vulnerability.
It's also not at all expensive to implement.
Metro SMART IT gives you the ability to get the right information transferred to the right people where and when they need it – just by using their smartphone. Information is instantly accessible on site 24/7.
Information is Available Instantly When and Where Required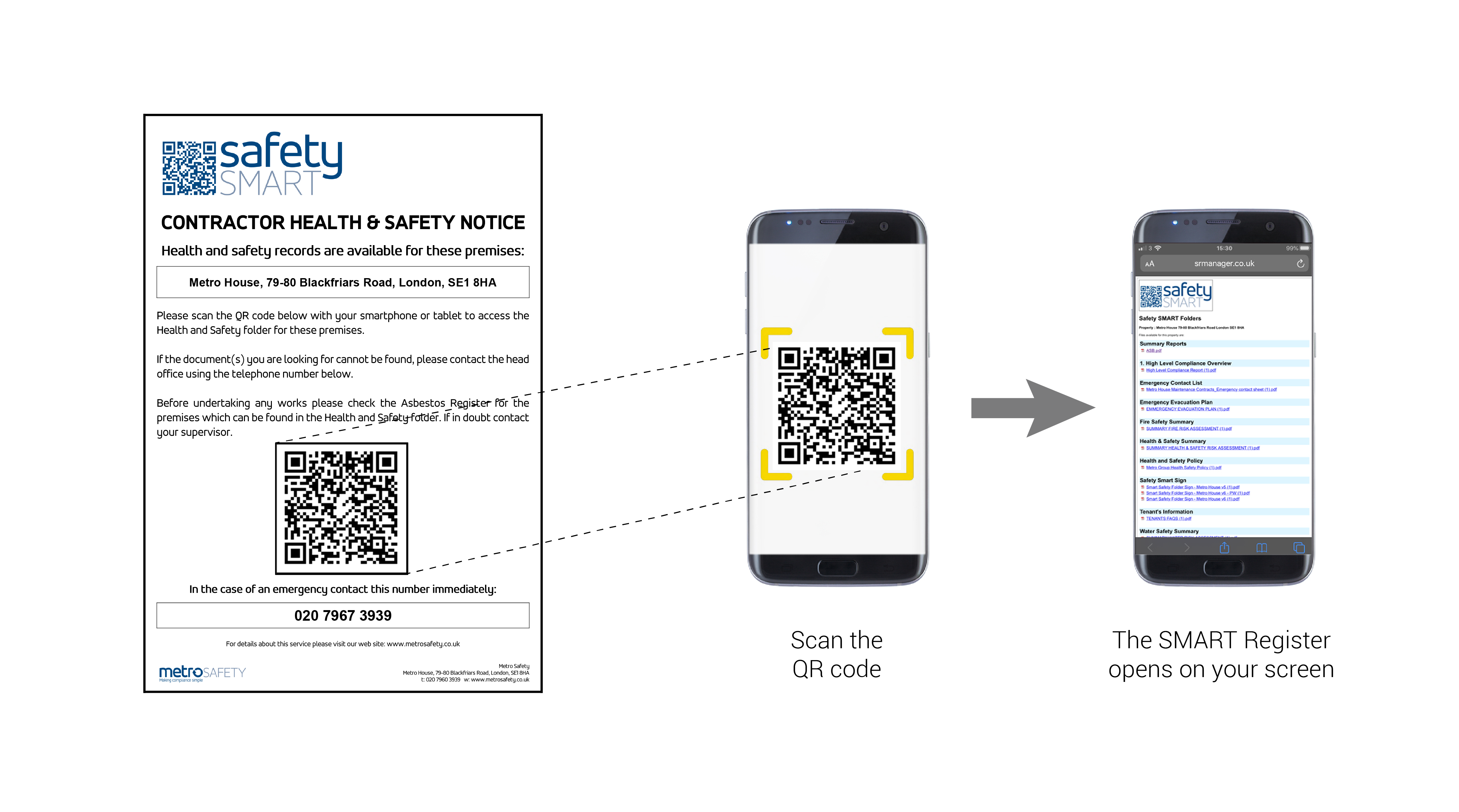 Anyone can simply use a smartphone QR code reader (native with Apple and easily downloaded free for Android) to scan one of our SMART QR code notices at a property where Metro SMART IT products are installed. After scanning the QR code, they will be directed to a webpage where all the documents you have asked us to make available will be listed. They just choose the document required, tap once and it will download to their device, ready to read. The whole process takes seconds and the document will remain on their phone until it's deleted.
Our webpage will record the time, date and IP address each time a document is downloaded providing valuable line of sight for management.
The advantage of our SMART IT products is that any individual can instantly access important information about your property as long as they have a data connection or Wi-Fi, giving your tenants, staff or Contractors sufficient information to live or work at your properties safely.
Safety SMART Demonstration
Why not use our Safety SMART demo to try it out for yourself? It takes seconds.
Metro SMART IT Product Suite
There are four Metro SMART IT products available. Find out more.